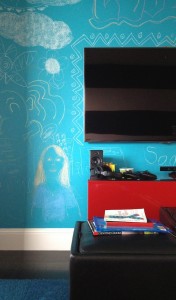 Painting chalkboard walls (and other surfaces) is still popular after several years of being in design blogs and magazines.  We still like the idea of a big, writeable surface – especially for kids, offices and creative people who like to change things up.
However, if you don't want your chalk wall to look like everyone else's, use these tips:
Color! – chalkboard paint no longer has to be black or green.  Check out Hudson Paint for 30 fantastic colors.  The playroom wall to the right is painted in Aquagirl Blue.
Paint the whole room – rather than just painting an accent wall, why not make a whole room a chalk board?  It may be bold in black, but gives the space a unifying look rather than breaking it up into pieces.  See how we did it!
Paint objects instead – give yourself more flexibility by painting moveable objects instead of walls – vases, trays, even a vintage TV screen.  Check outHuffington Post for some more ideas.