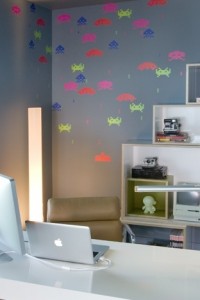 As apartment renters ourselves (yay SF housing prices!), we are always looking for great ways to make a rental feel like a permanent home… without losing our deposits.
Here are some great ways to personalize a space that are totally undoable when you move out:
Wall decals – as well as temporary wallpaper, are great for making a big impact.  And you just peel them off when you're done with them!
Swap out light fixtures – though most renters think they're stuck with the lighting they have, it's very easy to swap out a ceiling or wall light fixture, keep the original packed safely in a box and replace it when you move out.  No more ugly chandeliers!
Layer rugs – stuck with carpet you hate?  Layer a large area rug over it and the room will transform!  Use a sticky rug-to-carpet pad underneath so it stays put.
To see these tactics in action, check out the latest photos in our Facebook Gallery of Work!