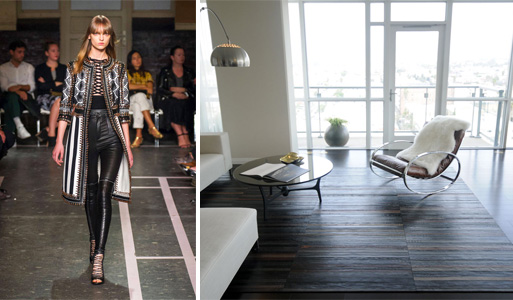 A few weeks ago, the City of Lights was awash with the fashion industry's best of the best, inspiring us to redefine our wardrobes. As fashion and interior design go hand in hand, all of these ideas can be translated from the Paris runways to your living room.
Leather: From a-line skirts to tailored trousers, leather is going to be making a statement next spring. Leather in your home can be used on many surfaces from upholstery to wall and floor tiles. (The floor in the image above is made out of recycled leather belts!)
Quilting:  Quilting is a subtle and gorgeous way to detail a piece of fabric, and isn't just for bedding. Quilted upholstery and accent pillows can be fresh and modern such as the D986 accent pillow from Lacefield Designs. We love the quilted, zippered back!
White: White was seen all over the Paris runways this fall, from Christian Dior to Alexander McQueen. A pristine white interior is always in style, and looks great monochromatic and with pops of your favorite color.
Images via Harpers Bazaar + Ting