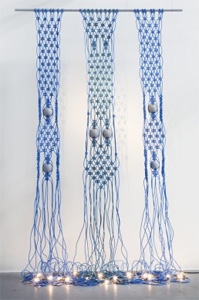 Amp up your home with a piece of art that has an on/off switch. Letting light double up as art is a great way to add color and interest, all while making your art multi-functional!
Instant Pattern:  Create cool patterns on your walls with a light-filtering filigree lampshade like these copper shades from Terrain. Hang one on its own for a bit of drama or in a group for a real piece of art. Bonus: they're striking to look at on or off.
Paint the Walls with Light:  Not allowed to paint the walls in your rental? Love pink but afraid to use it on the ceiling? You can instantly flood a wall by changing out your soft white light bulb for a colored one! This works especially well in a small space like an entryway.
Create a Focal Point: Make a statement with a unique interpretation of a light fixture such as these works of art by Bay Area artist Dana Hemenway. Dana uses extension cords to create colorful tapestries of macrame that you can read by. Available at Aldea Home.