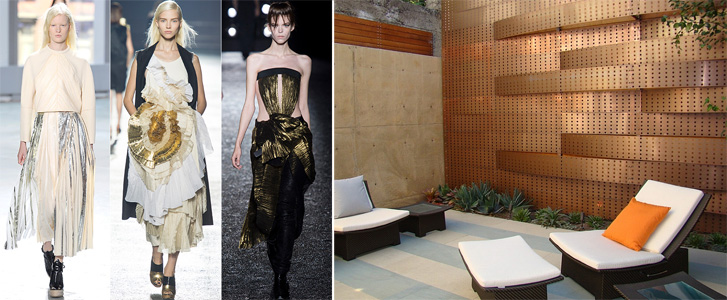 As interior designers, we are constantly inspired by every aspect of life. Everything we see and experience becomes part of our personal archives and it's our job to pass the creativity to you. Fashion and interiors have influenced each other since King Tut was gracing the throne, and the only difference today is that the trends change every 3 months instead of every 300 years. So if you're looking to keep up with some of the current trends this summer (either in your closet or in your home), here are some great options:
Shiny Metallics:  Metal is in! Whether you're into pleats or sheers, glam it up this season with metallics. You can bring these great textures into your home with some new window treatments or accent pillows, or a cool outdoor privacy screen made of shiny copper.
Powder Pink: Pink isn't just for little girls anymore. We're seeing modern dresses, sporty skirts, and even biker jackets in this soft color. Adding pink as small accents here and there will brighten up a room in a heartbeat.
Prints + Patterns: From tropical flowers to checkerboards, prints and patterns are hot. Mix 'em up by using prints of different sizes, and go bold with color.