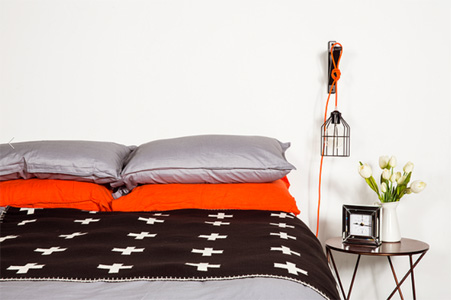 Most of us who live in rentals don't have the luxury of hanging our own hardwire lighting. Even homeowners not ready to have an electrician over might be limited to installing lighting only where boxes exist. Restrictions to this conundrum include having a limited choice of great looking light fixtures and having to look at the cords all the time. But, never fear! If you consider the cord as part of the fixture, there are lots of stunning plug-in fixtures to choose from and plenty of inspiration as to how hide (or show off) those cords creatively.
Celebrate the Cord:  Use fixtures that come with pretty cords like the Lovell Plug-In Wall Sconce from Barn Light Electric, or flex your DIY muscles and change out the cord yourself with a great Cloth Covered Cord. You'll be happy it's not a hardwire light fixture!
Add Some Cool Hardware: If your plug-in pendant has to travel across the room to reach the outlet, try adding a cool element to wrap the extra cord around like an old railroad spike, pretty plant hanger, or vintage crystal doorknob. It'll become a nice feature that's part of the lighting.
Embrace the Flexibility: Using a plug-in fixture means you can put your light anywhere that's in the vicinity of an outlet. Instead of a table lamp by your bed, plug in a mini chandelier, run the cord up the wall, and using a bracket of sorts let it hang just above the nightstand. Instant bedroom makeover!