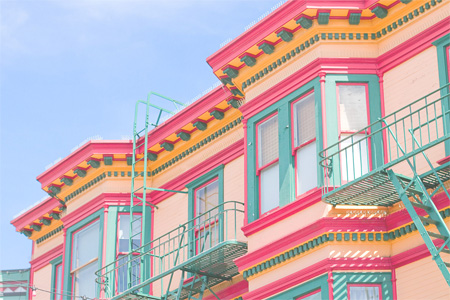 Every year, San Franciscans wait patiently for what everyone else calls Autumn: our Indian Summer! For a few weeks this time of year we dig out our 'vacation clothes', and spend as much time outside as we can. To entice you, we've rounded up a few things going on around the city this month:
The Contemporary Jewish Museum:  The museum's very existence is reason enough to visit, but their current exhibits include one of particular interest to us. Designing Home: Jews and Midcentury Modernism celebrates the works of Jewish designers during the 1930s and 40s. Hurry, though- it's on through October 6!
Hardly Strictly Bluegrass: Whether you're a fan of bluegrass or not, enjoy a weekend of free music in beautiful Golden Gate Park. The Hardly Strictly Bluegrass Festival is Oct. 3-5, and the lineup is amazing. Don't forget your sunscreen!
Yerba Buena Night Art Walk: If you find yourself downtown on Saturday, October 11, head on over to the Yerba Buena Center for the Arts and join them for an evening of gallery hopping and wine tasting. Oh, did I mention it's free? Visit Yerba Buena Night for details.
Keep enjoying the SF summer!