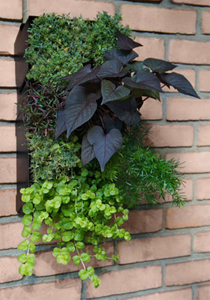 Spring has arrived, and that means it's time to get your gardening gloves on! Growing your own plants and vegetables is fun, good for your air quality, and you'll always have fresh mint for your juleps. With a little creative energy and a slightly green thumb, you can create a great garden in any space from a window sill to a large deck.

Use any available outdoor space:  Be sure not to block any pathways, but outdoor spaces like balconies and fire escapes are perfect for gardening. To keep a pathway clear, a railing planter is a good option.
Use any available indoor space:  A window sill is the obvious place for small planters, like a spice garden over the sink in the kitchen. A living wall planter is a great option for small spaces because they don't take up any valuable floor space, and double as artwork!
Brown thumb?  If your plants insist on dying despite your best efforts, start small with some hearty herbs and a self-watering planter.  Then even you can reap the rewards of happy plants.