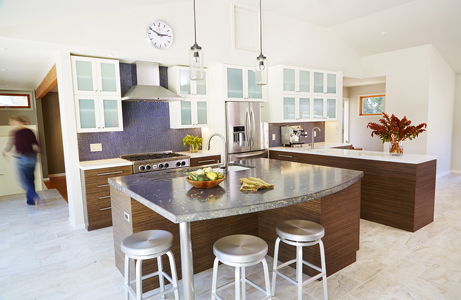 Looking at design magazines and blogs, it's easy to get swept away in inspirational designs, and then get hit in the head with a reality brick when reviewing your own budget. However, we are experienced at the fine art of spending money wisely, so you can get a room or home that looks *amazing* without having to resort to a life of crime.
Here are our tips on what to invest in, and where to find a deal using this modern kitchen design we recently completed as an example:

• The Budget Items – This kitchen features porcelain flooring, a bright penny tile backsplash, inexpensive stools and pendant lights. By choosing less expensive options for these items, the clients were able to spend more money on other things.
• The Mid-range Items – The appliances that made it to the final list are well-made with good reviews, but by avoiding some of the high-end names we were able to get a package deal that fit the budget.
• The Big Ticket Items – The big impact items in this kitchen are the two-toned cabinets and the amazing concrete island countertop.  We put a bigger percentage of the budget into these items, and in turn, they elevate the look of the whole kitchen.  By choosing veneer and painted cabinets over solid wood, we were able to get high-quality, custom cabinets at a lower price than solid wood.
Photography by Brian Pierce