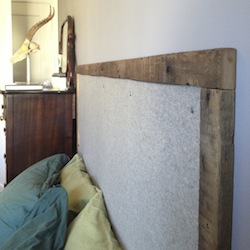 Here at Labexperiment we've have had an obsession we're finally ready to share with the public.  It's with that amazing textile,wool felt!

Wool felt is an amazing textile, in its simple origin and nearly endless uses.  Here are a few of the reasons we love it so:
Natural – and no sheep are harmed in the harvest of wool for felt.
Durable – like regular wool, it is naturally stain resistant, and will keep its cozy texture for a lifetime.
Versatile – felt is easy to work with and doesn't require hemming, so it's easy to make simple and complex shapes.
We get excited about using felt in unexpected ways – like this industrial felt headboard!
To check out just a few of the amazing products made from felt, check out our Pinterest board dedicated to felt!